Hi,
I have do a comparaison size between PVS14 and thermal OTS, test and pics ! I hope you will enjoy it.
Before this purchase, I had a FLIR scout TS32 with x2 extender, the Scout was high quality and very well made, but the view screen is to small, big size 265 long, 85 wide and 75mm hight, and an heavy weight of 1.1Kg. After a moment, it was heavy and cumbersome and not comfortable view with it for more then a few minutes.
Here are some specs about the OTS vs Flir
- 9hz with a 336x256 sensor vs 7.5hz and 320x240 for Flir
- bigger display screen 800x600 at least 3 times larger than Flir with 320x240 lcd display.
- takes CR123 lithium batteries or Li-on rechargeable batterie (Battery life on one 1200mA Li-on battery is 45 minutes of use, with 2000ma, about 2h vs 4 internal AA 2400mA Nimh rechargeable batteries on Flir
- 13 color modes vs 3 on Flir
- video output on both
- interchangeable lenses 30mm (x2), 50mm (x4), and 70mm (x6) vs x2 on Flir
- x2 and x4 numeric zoom on OTS vs x2 on Flir PS or TS32
-manual brightness adjust on both.,
- 19mm lens on the OTS like the scout
(Mine's coming with 19mm lens, why ? I don't know, the ATN specs says 14mm)
-OTS it's heavier than announced by ATN spec 500gr vs 375gr
Few things to compare them:
- OTS-X costs little more expensive than PS32 but cost many less than TS32 with x2 extender
- OTS doesn't have instalert feature (but have 13 color modes)
- 1 year warranty vs. 2 years with the scout
- ATN says OTS's waterproof, but doesn't give information, there's no O-ring when you change the lens. When the lens was removed, the microbolometer sensor appears. If i was going to put one under water i would more trust the Scout.
- Flir scout auto calibrate every 45 seconds, the screen freeze one second during the calibration. The OTS have a manual calibration, you do it when you turn it on, then after that only when you choose.
I've found after the initial calibration, then need to re-calibrate is very few and far between, I think the manual's better.
-Flir scout goes to standby after three minutes if no buttons are pushed. A warning is shown in the display, no standby on OTS
-Flir scout, power-on bootup is long, about 90 seconds before going to On, only 4 seconds on OTS.
-Important thing, on the Scout there's only diopter adjust, but on the OTS-X there is a diopter adjust and manual focus on the front lens, for having a really nice crisp image.
I made sure to view the same scenes that I did with the Scout, and I can tell there's best image quality and best detection ability on the OTS.
I actually would give advantage to the OTS-X, probably thanks to the screen display and manual focus. I'm able to get the most out of the image at any distance.
As far as fit and finish, I would give the same notation for them. Just little doubt about the water proof capabilities of the Ots.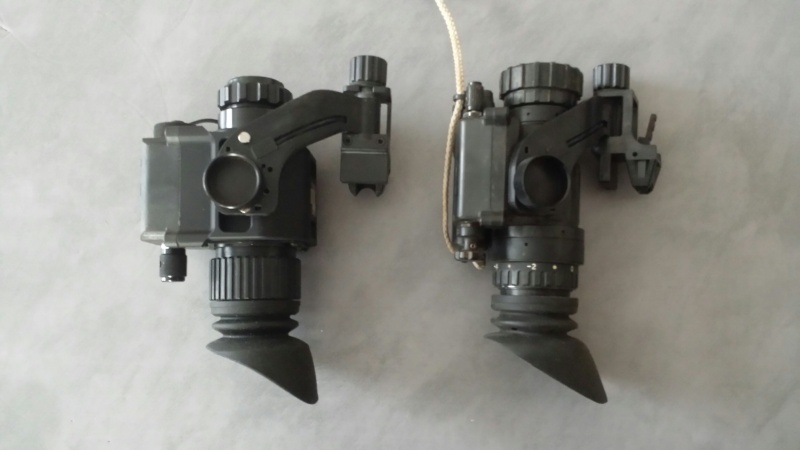 The 13 colors display mode. Sorry for the pics quality, it was not very easy. I did my best.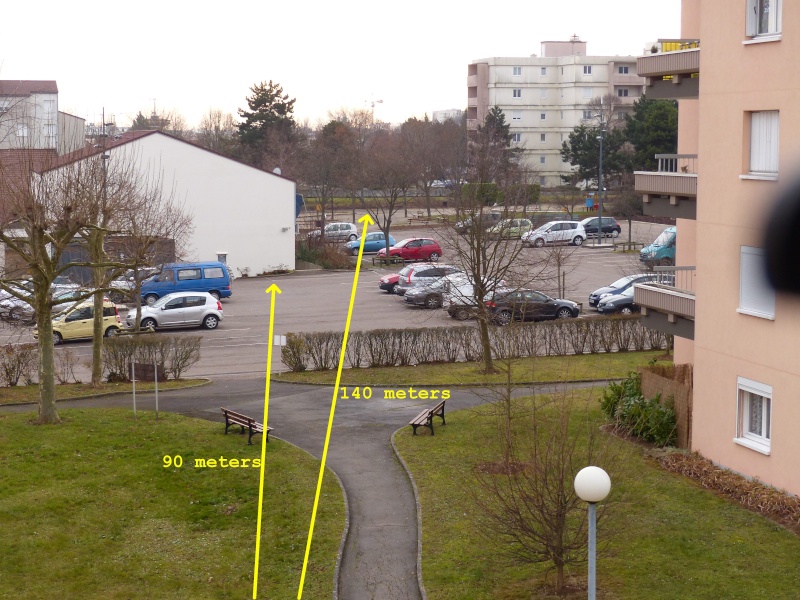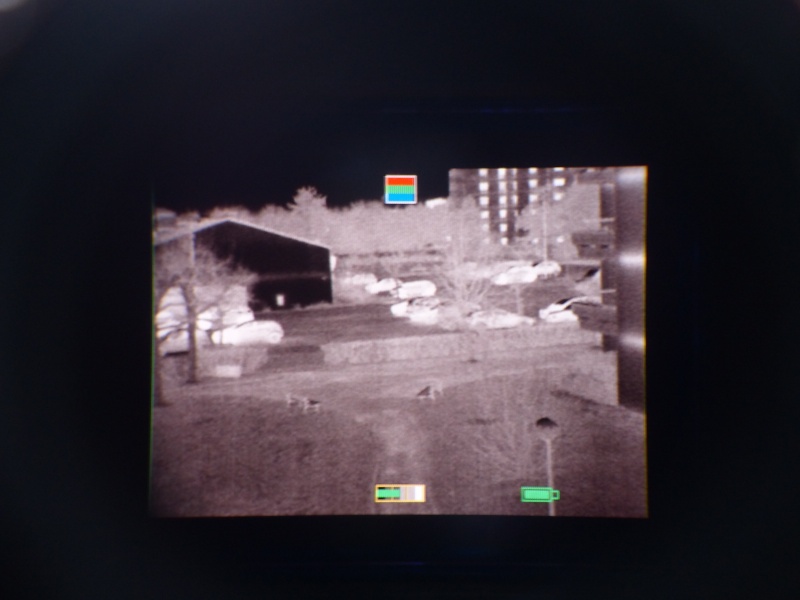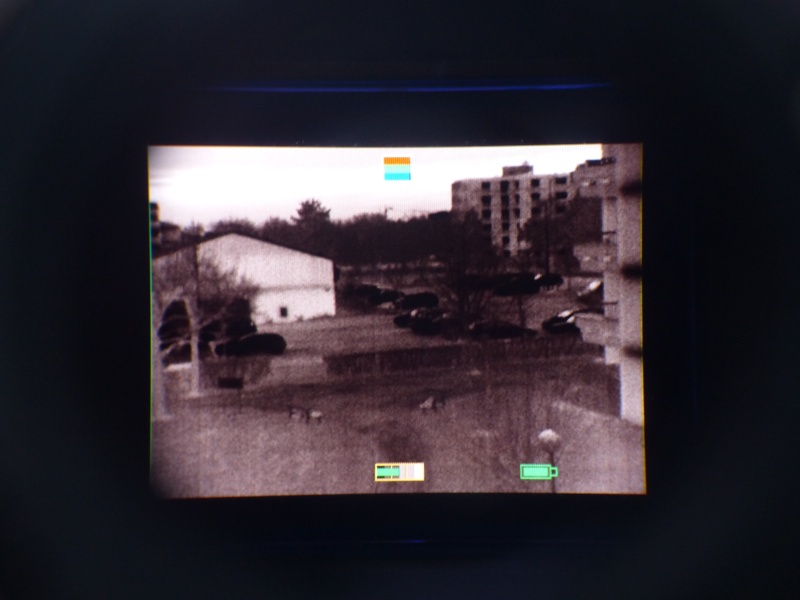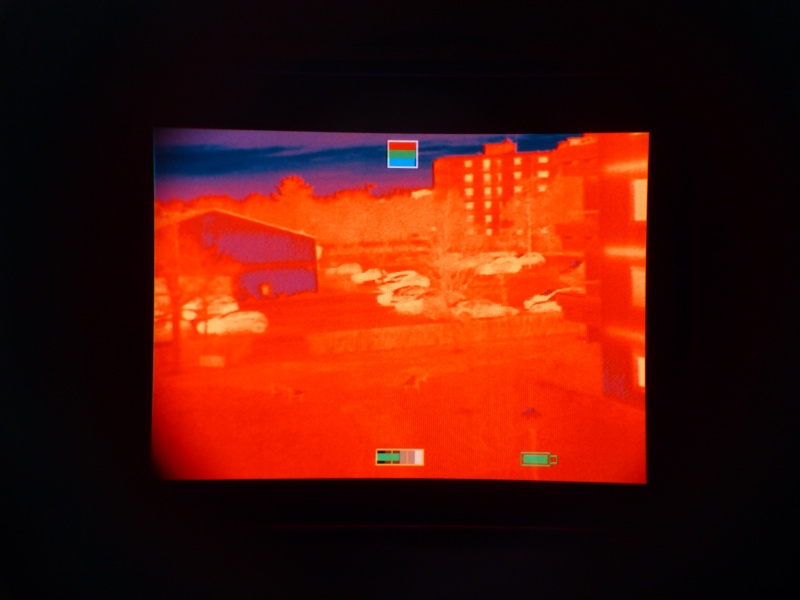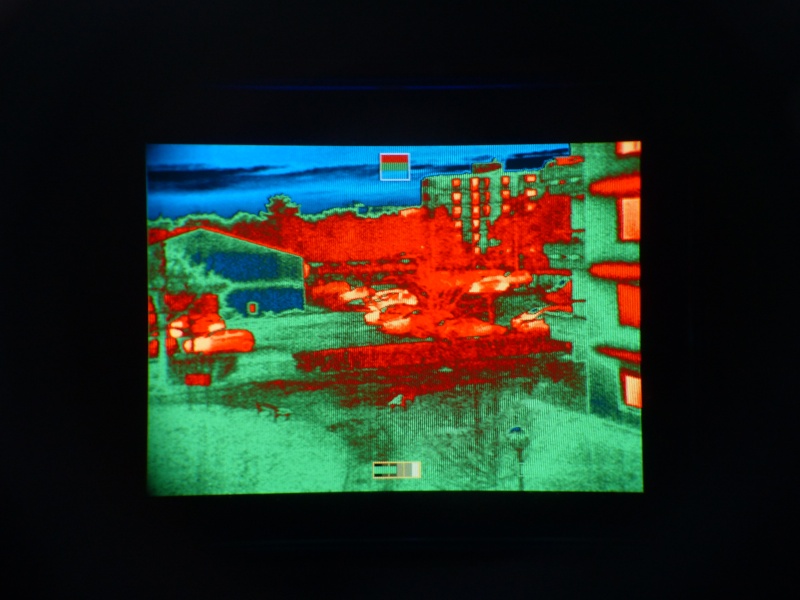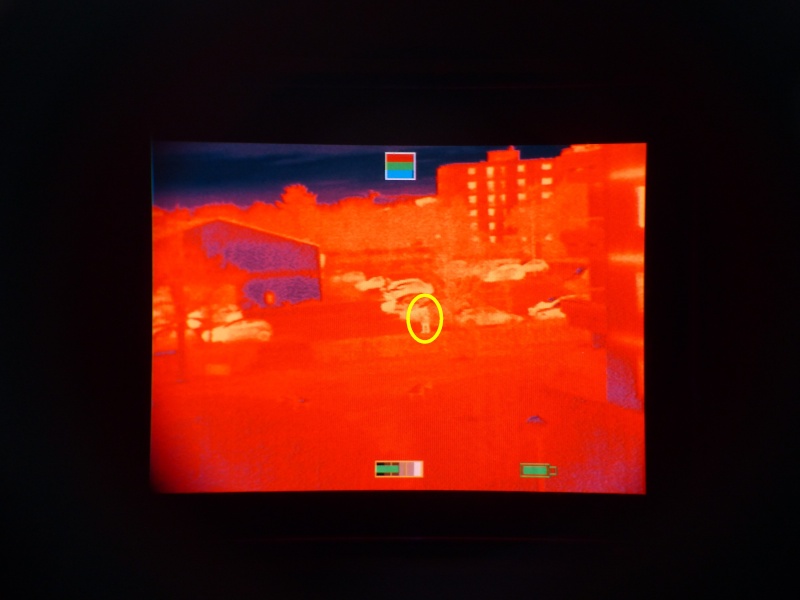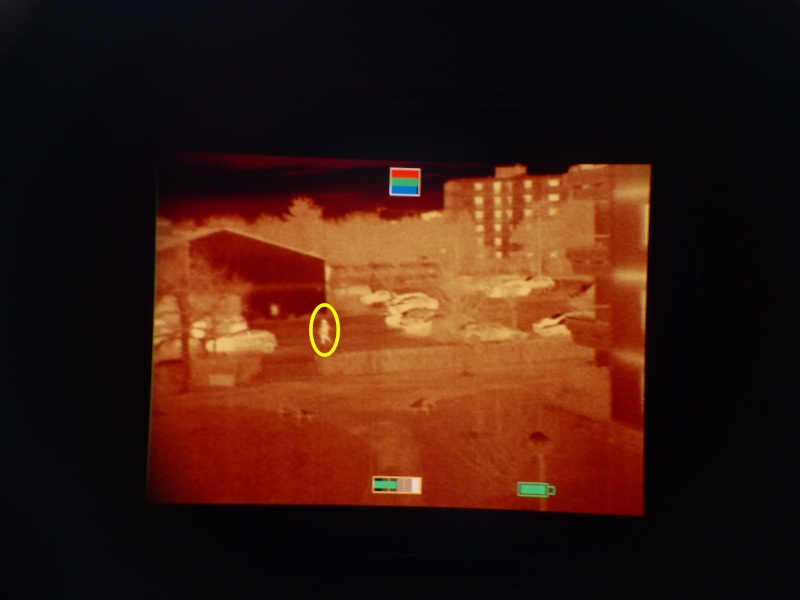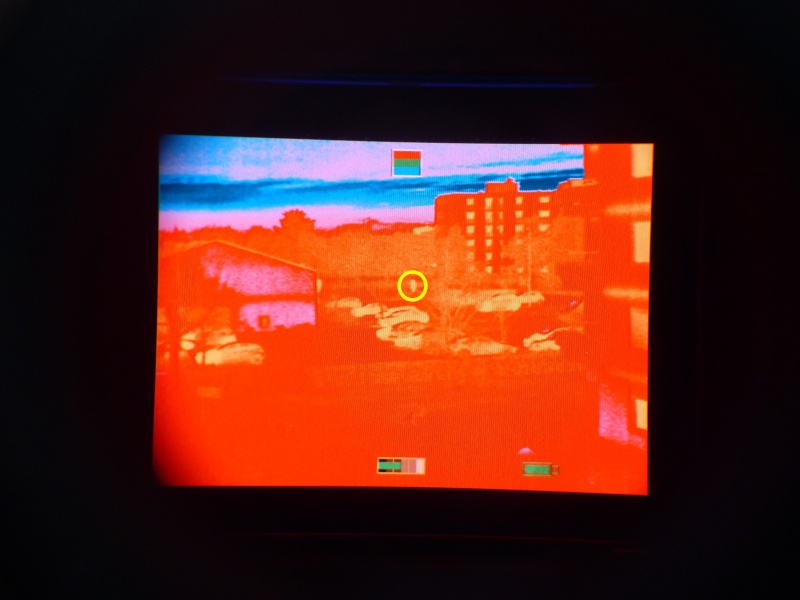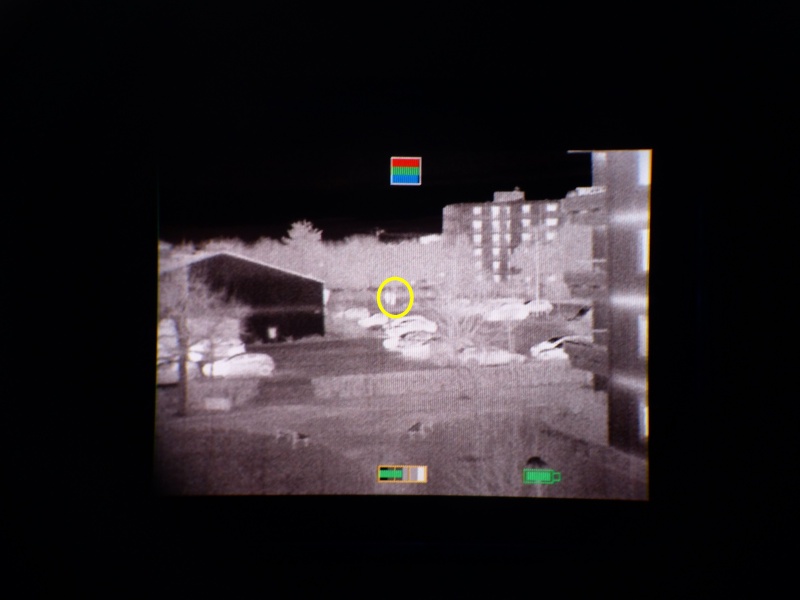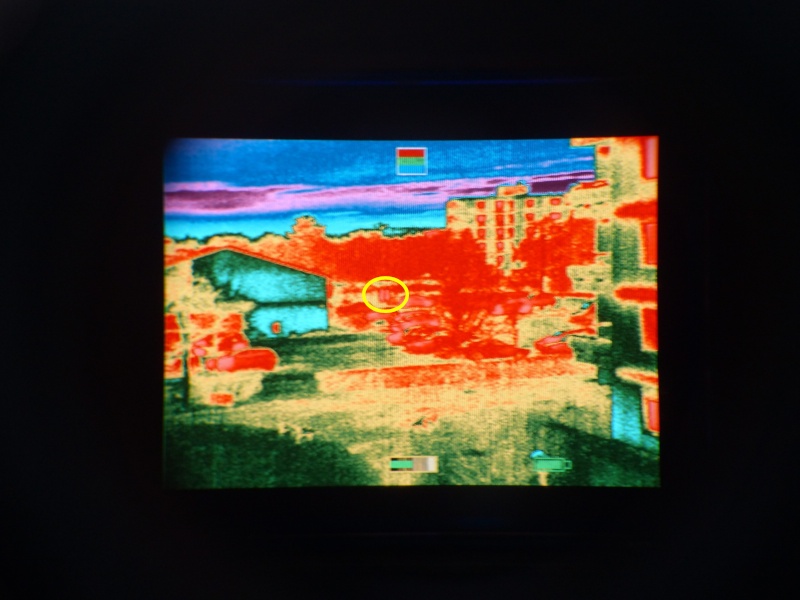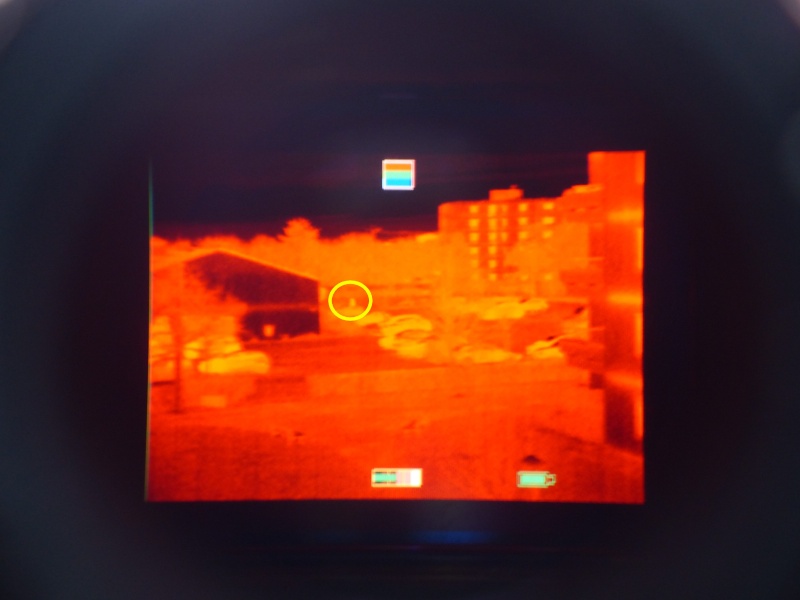 Some view with zoom x2 and x4