Ok, after a long hiatus to address life, I finally got around to tearing this oddball scope down, so excuse me bumping this thing out of the darkness. Here's what I've got at this juncture:
Make/model of this scope is unknown. Nobody to whom I've spoken and/or corresponded has been able to identify it, and I've not found one single written or visual source or tidbit referencing it. Here's what I do know.
As is, the scope doesn't work, because the wiring inside is severed in a couple of places. Set that aside, bypass the gain and switch circuity by connecting the tube directly to the battery pack, and it works. Well, sort of. The image is dark and grainy.
UPDATE: I adjusted the lenses in a somewhat different way than designed, and I managed to get a really nice image out to about 100 yards, although it does have noticeable fisheye. I can live with that given that's a "feature" of cascade tubes. I still need help with the circuits though.
Here's what I've learned:
The tube is a Varo cascade tube. The model number has been smudged, but upon close inspection, appears to be a 510-1452-303, dated in 1979. I cannot find anything online regarding this specific model number, but I'm fairly sure it's a Gen1 tube. The tube fires up if connected directly to the battery pack (i.e. bypassing the power and gain switches)...
<now-irrelevant text deleted>
Also, it has a weird reticle I've not been able to find online. It's essentially a cup with two very thin crossed wires which sits between the ocular lenses and the tube. As luck would have it, I dropped a small screw onto it, and broke one of the wires, so if anybody knows where one can find this piece (see attached), I'd like to know. As it is, I can't even find a single reference or picture of the thing on which I can follow up.
Anyway, that's more information than I had before when I set this aside, but I'm still in need of some simple instruction how to hook up the wiring so I can at least have a fully functional scope
<more irrelevant text deleted>
Here are some annotated pics.
This photo shows the main components, including the weird reticle. The remaining wire to too thin to notice.
This is the tube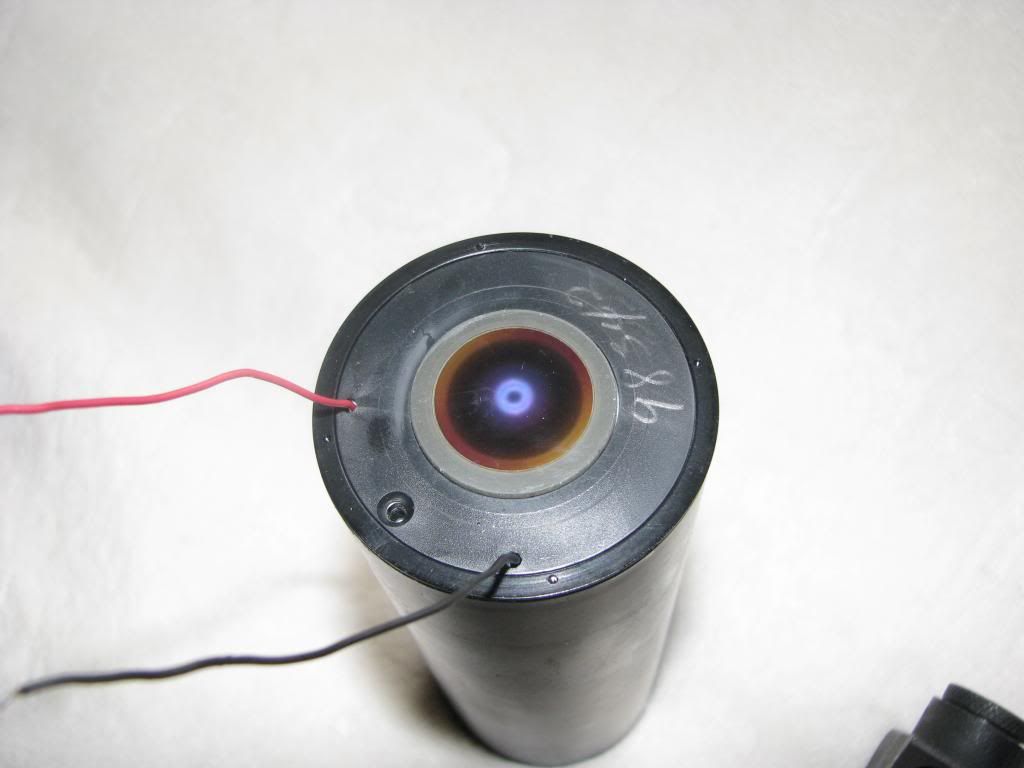 This is the wiring to which I referred. To clarify what's in the picture, there is a positive and ground wire coming from the tube. From the battery compartment there is a ground wire that is severed, and a positive wire going to the power switch. From the power switch there is a positive wire going to the hot tap (or is that the cold tap?) of the potentiometer. What's difficult to see is that the wiper tap has solder on it, but nothing is attached, and there is a short piece of positive wire which was loose inside, and attached to nothing. I'm no electrician by a long stretch, but I am assuming I should connect the ground from battery compartment to the tube's ground wire, and connect the positive wire from the tube to the wiper tap on the potentiometer. Is that correct, or does that extra positive wire play into the circuit? Any advice completing this circuit would be most appreciated.